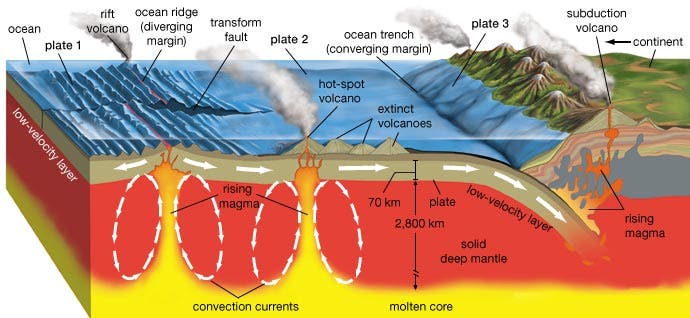 A good friend of the blog,
Omari
, put us on to an interesting geological phenomenon. In 2005, a huge 35 mile rift broke the Ethiopian desert apart and immediately led to geological claims that a new ocean was appearing there because two parts of the African continent were being pulled apart. However, the claims were quickly dismissed as being too controversial. However, a new study published in the latest issue of
Geophysical Research Letters
comes to back that idea up as the birth of at least a sea there seems inevitable.
"This work is a breakthrough in our understanding of continental rifting leading to the creation of new ocean basins," says Ken Macdonald, professor emeritus in the Department of Earth Science at the University of California, Santa Barbara, and who is not affiliated with the research. "For the first time they demonstrate that activity on one rift segment can trigger a major episode of magma injection and associated deformation on a neighboring segment. Careful study of the 2005 mega-dike intrusion and its aftermath will continue to provide extraordinary opportunities for learning about continental rifts and mid-ocean ridges."
"The whole point of this study is to learn whether what is happening in Ethiopia is like what is happening at the bottom of the ocean where it's almost impossible for us to go," says Ebinger. "We knew that if we could establish that, then Ethiopia would essentially be a unique and superb ocean-ridge laboratory for us. Because of the unprecedented cross-border collaboration behind this research, we now know that the answer is yes, it is analogous."
"We know that seafloor ridges are created by a similar intrusion of magma into a rift, but we never knew that a huge length of the ridge could break open at once like this," says Ebinger. "Seafloor ridges are made up of sections, each of which can be hundreds of miles long. Because of this study, we now know that each one of those segments can tear open in a just a few days."
Currently, scientists from several countries have supposedly confirmed that the volcanic processes at work beneath the Ethiopian rift are nearly identical to those at the bottom of the world's oceans, and the rift may likely be the beginning of a new sea.
READ MORE HERE---->