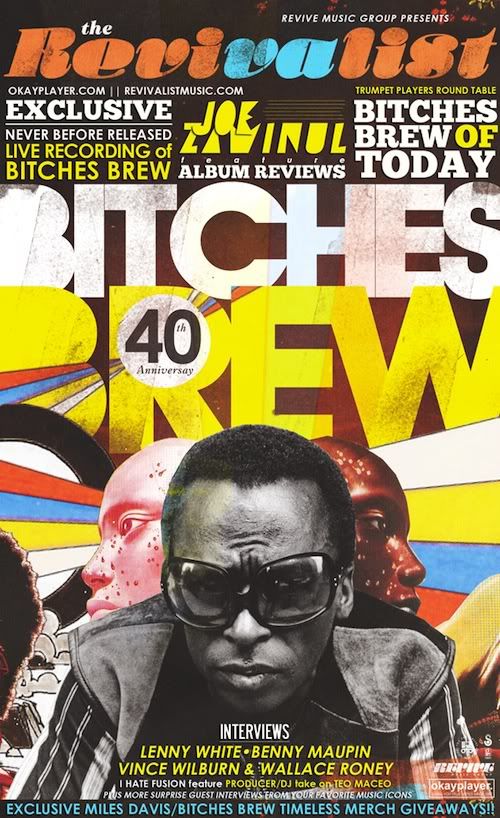 I

n their words:
"
Why did we choose Bitches Brew for the first "Issue?" When one of our brethrens at Revive was asked to sit on the panel at this year's CMJ Music Marathon Week by the Miles Davis Estate to talk about the intersections between jazz and hip-hop and how it relates to Bitches Brew, we jumped out of our seats and said "yes, yes!" At last there was a camp, the Miles Davis Estate, that like ours, valued progressive jazz music beyond the confines of strict genre assignments. We respected what the estate was doing, connecting with young cats in different areas of popular culture, and outside of academic jazz circles, to revitalize the legacy of Miles Davis—and not just Miles Davis—but the eras of music that can be connected directly back to his influence. After all, Miles was the artist who had the audacity (backed with genius), to exclaim that he had "changed music 3 or 4 times." On another frontier, they were also connecting a heavily lacking historical context with today's music terrain, giving music consumers (readers of online and print publications, DJs, young musicians, music collectors, passive radio listeners) a look at the deep roots of American jazz music, where Miles Davis stands as one of the most powerful icons.
Exclusive Never Been Released Live Recording of "Directions" from Bitches Brew Live
To kick off this month's issue and to commemorate the 40th Anniversary of Bitches Brew, it is with our absolute honor at The Revivalist to present publically to the world the never before released live recording of "Directions," from Bitches Brew Live, the Joe Zawinul composition performed at the Isle of Wright in 1970.
LETTER FROM OUR EDITORS & MORE ABOUT BITCHES BREW MONTH READ MORE